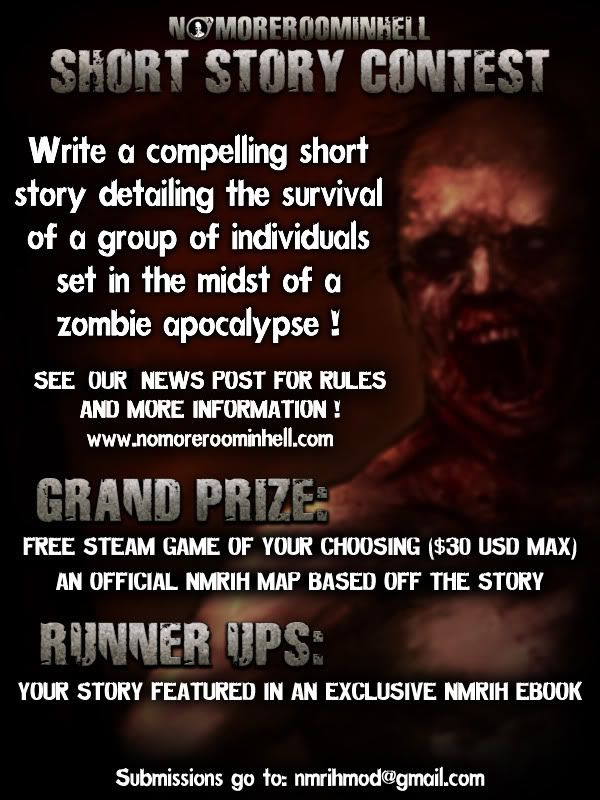 Rules
1. Must be less than 7,500 words.
2. Must be grammatically correct throughout.
3. It must be written by YOU.
4. Must be descriptive with some emphasis on setting for the sake of our level designers.
5. Must be as realistic as a zombie apocalypse can be. That means no mutants or weird science fiction stuff.
The NMRiH community has created some great fan fiction in the past and continues to write some amazing stories to this day. It was these stories that inspired us to create the universe surrounding our mod. Now it's up to you to help us expand our universe. For NMRiH canon see our
story section
. And for some inspiration see what our community has written in the
fan fiction forum
!
A few things to note when writing for our canon:
Zombie outbreak started in 2010 somewhere between the months of July-September.

The majority of our maps currently take place in New York. Although you may use any location in the world you wish.

We encourage you to make up characters rather than use ours.

Animals can not become undead. If infected they will die. Human Zombies only.

There may be fast runner zombies and slow shamblers only. (of any age) No alternative zombie types.
Submissions go to

contact@nmrih.com
Contest deadline

September 12th 11:59 PST